Nakotne 1/72 Polikarpov I-3
I-3 made its first flight in 1928 and entered service the next year, becoming a primary fighter of the Red Army Air Force with about 400 built. Although I-3 flight performance was on par with the Western fighters of the time and it had a certain potential for further development, the type was phased out relatively quickly and replaced with I-7 (a license-built Heinkel HD-37).  
The model released by the Latvian company Nakotne in the early 90s is quite primitive by today's standards and not entirely accurate. The most problematic parts are the stabilizers, which are too small and have a wrong shape, and a cowling, which is completely flat, while on the real aircraft it had a complex cross-section defined by two rows of the engine cylinders and two machine guns between them. The fabric surface is represented nicely where needed, but the cowling and wings are spoiled by grotesquely overdone and entirely unnecessary recessed lines. Interior is primitive, blocky and inaccurate. Many small – and not so small – details like machine guns, exhaust pipes, gun sight, stabilizer struts are missing entirely.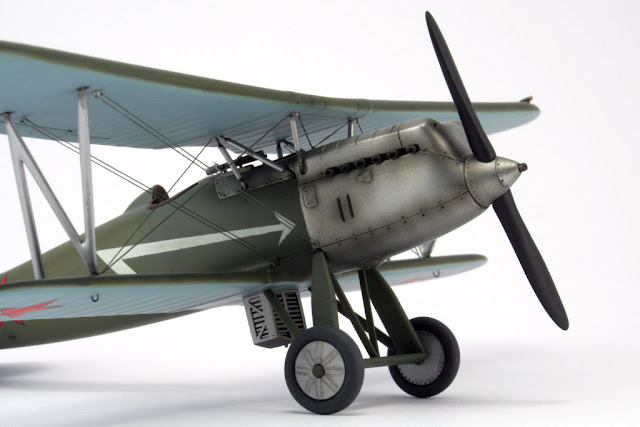 The work started from the interior. Fuselage internal structure, seat, pedals, instrument panel were built out of sheet styrene and stretched sprue. The instrument faces were printed on an inkjet printer.
The cowling shape was corrected by gluing two thick styrene strips on top of the cowling, blending them with Milliput and making cutouts for two machine guns, which were built from styrene and added later. Horrid panel lines were filled and replaced where necessary with more delicate ones. Some panels and hatches were represented with decal covered with Mr.Surfacer.
The upper wing has two issues that need to be addressed: first, the division between plywood and fabric skin near the leading edge is represented with the same exaggerated recessed line, and second, there is a noticeable sink mark that runs along the left half of the wing. This was cured by filling and sanding, while masking each space between two ribs separately to preserve the fabric effect.
Stabilizers, which are thick and wrong in shape were replaced with scratchbuilt ones made out of sheet styrene. To acieve a fabric skin effect I glued thin plastic stripes to act as ribs and then blended them by applying a few layers of Mr.Surfacer and sanding.  
Most of the small details were scratchbuilt as well. Wing struts were made out of wood (toothpicks, actually), while styrene rods were used for the undercarriage struts. Retractable radiator was also built from scratch with some sheet styrene. Propeller, which was molded integrally with the spinner did not look right to me, so I made new blades out of wood and corrected the spinner.
Navigation lights on the upper wing were made using a piece of stretched sprue of about 0.5 mm diameter which was given a drop shape. Then I drilled a hole in the its end, filled it with red paint (green for the second light) and placed a tiny drop of transparent epoxy resin over it.  
The model was painted with Aeromaster acrylics, white lightnings were airbrushed with Vallejo off-white (the ones provided in the decal were too bright and had a wrong shape). This was followed by a layer of Future, the decals (they are very good, except that the stars are too small, so I had to use the lower wing stars for the fuselage, and to find the stars for the lower wing in another kit) and another layer of Future. The cowling was painted with Alclad Duraluminum and then post-shading was applied using the mixture of Future and brown and gray Vallejo.
The final assembly proved to be a little tricky, in spite of the primitive rig I made to hold the upper wing in place, but finally I managed to install the wing and all the struts. The last step was rigging, done using the elastic thread (it needs to be split to get the appropriate thickness) and painted with Vallejo.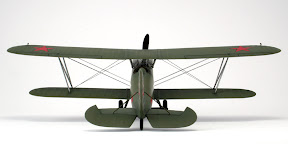 A few years ago when I bought this model I thought it could be built straight out of the box. However, since then my attitude towards this hobby changed. As a result, apart from the wings, fuselage and wheels nothing much remained from the original kit. Unfortunately, there is no easy way for anyone wanting to build a model of this interesting and attractive subject in 1:72nd scale.